Hell yeah! That's my feeling this morning. The week of doing recovery and mobility mixed with yoga has come to a close and the real workouts begin again. Chest Back Balance and Abs starts phase two for me today! 2nd phase, in my 2nd journey through P90X2. Slammin'.
Here's my goals in this phase. One, I plan on doing the moves without assistance. I also wish to do as few moves as possible without modifications. There's still a couple of moves I'll have to accomplish via modifications due to a lack of equipment. Like the push-ups on 4 med balls. I haven't yet brought myself to buy more med balls. I will soon though.
Doing the pull-ups without assistance today had me wondering what the fuck. Mostly because there are so many pull-ups. About half of today's workout was pull-ups. Yikes. I started off strong. But by the end of the hour I was barely able to do more than 1 pull-up in some of the breakdowns.
With push-ups I did much better. However, there is one move where I was unable to do even one push-up. That was a push-up on a med ball with my feet on the stability ball. Holy hell. I didn't do one. It was damn hard just to get my giant hands on the med ball then even attempt to get my feet onto the stability ball without falling over. I'm guessing that possibly I need to pump the stability ball with more air as it's a little soft. I was finally able to get up on the balls as per the move. That is a huge step forward I suppose as that took a while to make that happen. It's not easy. Thus next week my goal is to at least get up and do one push-up.
The other "bonus" is that I did the bonus round. Mind you I wasn't able to kick serious ass. The very last move was a pull-up move and I did 1. But at least I did those moves.
Here's my breakfast post beachbody workout: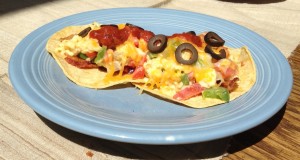 Yum!
I sided it with some Shakeology. Now I'm feeling ready to tackle my day. Chest back balance and abs starts phase two and puts me just over the 1/3 mark of completing my 2nd journey. I'm going to be starting another fitness challenge – so get on board and join me.