Another journey through a beachbody workout comes to an "official" close. That's right I'm saying that my 2nd time through P90X2 ends again or does it? I decided that I would close out journey 2 today.
I closed out with a great PAP Upper workout where I got through it all and pushed it hard. Then I followed it up with an Ab Ripper X2 set. Still working on the tummy.
Here's my stats ending this time around: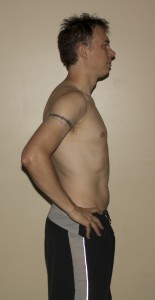 After Stats on 08/11/12:
Chest: 40"
R. Arm: 11 7/8"
L. Arm: 12"
Waist: 34"
Hips: 37"
R. Thigh: 21 5/8"
L. Thigh: 21 5/8"
Total Inches: 178.125
Weight: 179
I have increased a total of one inch to my body. I've added a few pounds but I'm still shy of the 182 that I'd like to be. My other goal of the flat belly is probably a week or two off. What this means is that after taking a break next week, I will fire up phase two of X2 again.
Why?
I found that I lost the most belly during phase two. Which is why I'm going to retreat to that phase for an additional week or two after a week off. Give myself some rest, then pound the workouts to achieve that final goal.
Enjoy yourself and if you're looking to start getting into better shape join me in a fitness challenge starting in September! Until then, P90X2 ends again or does it really ever end? No. It's a lifestyle change for the better. Time for some Shakeology and some Poker.