Oh oh oh it's magic. To steal a line from an old hit, I'm feeling pretty good. Another chapter of accomplishing something is coming to a close. I'm happy to say, or rather write, that with today, PAP Upper ends the first journey through P90X2.
I started off really strong, made it through the first round of the first complex kickin ass. The rest of the first complex had me backing off on reps with Renegade Row and the Plank Med Ball moves. Those in combination are the hardest thing I've encountered in the entire Beachbody workouts I've done.
In the second complex I was able to keep up with everything but the max pull-ups. I've never been good at pull-ups. Technically when I started all this a year ago with P90X, I probably could do 1 full pull-up. I did a lot of the pull-up modifications. In X2 I felt I was hindering my ability to do more pull-ups with the modifications so I stopped and pushed – actually pulled – myself to do them as they should be. Now at the end of X2 I can roughly 7 pull-ups in a round. That's a big improvement for a tall guy.
Overall I'm ready for a short break before I start up my next fitness challenge. I'd like to encourage you to join me. You'll be happy you did. I'll push you, you can push me. Seriously join me for a May 14th start date on the next Fitness Challenge I've got coming up. Join NRG!
I want to take a moment and look back on the journey and the previous year. Here's what I've got…
Some stats in P90X2:
Beginning stats on 01/31/12:
Chest:        39.5"
Arm:    11 1/8"
Arm:    11 1/2"
Waist:        34 3/4"
Hips:        37"
R. Thigh:    21 1/4"
Thigh:    21 1/4"
Total Inches:    176.125"
Weight:     172
After stats on 04/26/12:
Chest:        39 7/8"
Arm:    11 3/8"
Arm:    11 3/4"
Waist:        34 1/4"
Hips:        37 1/8"
R. Thigh:    21 3/8"
Thigh:    21 3/8"
Total Inches:    179.125"
Weight:     174
I wish I had stats from a year ago when I started doing the P90X workouts. Alas, I don't. Only the pictures. Yet if you look at the numbers with the last 90 days, there's an overall 3 inch increase in size. That's fairly impressive. Weight wise I'm still a bit shy of the 182 lbs that I'd like to be. I attribute that to exercise, I eat well and I cook a lot.
With that in mind, I did say that I would post a before and after pic. Mind you, I'm not that vain with taking tons of pictures. However, with X2, I did take more. Personally I know there's been change. Yet for some reason, the pics don't seem to show as much as I would think they would.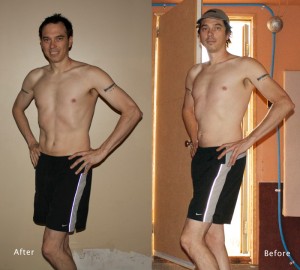 Be aware that I posted the after pic on the left and the before on the right. Other things to note, I was 195 lbs in the pic on the right. I'm 174 in the pic on the left. I've lost just over 20 lbs in the year. Actually lost more and started gaining some back. In doing some research about my body size, I'm actually pretty darn close to the weight I should be for my bone size and my height – slightly under.
My overall goals with getting into better shape and flattening the little bubble belly you can see in right side, have been achieved. This is a major goal that I wanted. I was always active and thought I was in good shape. Now I know I'm in good shape.
I have to thank my friends that I knew were doing P90X. Especially Thai Ly. It wasn't until I saw his transformation that I really decided to give it a go. I'm really happy I did. While my transformation isn't as eye popping, it's still there. I enjoyed it so much I became a coach. I really want to help others meet their fitness goals, eat better and be healthier too.
Thanks to my exploration of cooking for better eating. Friends have told me I inspire them to eat better. Thanks to Thai Ly, Jason Scheff, and Tony Horton for motivating me to do a workout beyond being active. Thanks to a desire of wanting to stay away from hospitals and OTC drugs and heal naturally. All of this has combined to inspire me to create this site.
Stay tuned!